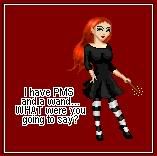 Another great idea to get ideas going... and doesn't this button fit my blog perfectly? LOL
It's too late for my "surly side" - I can still DO it... and I think I will... >:-)
But later... I am thinking of making some "
happy bunny
" pillows... of felt or fleece, with the happy, insane face, saying the awful things embroidered on their little, cute tummies...

which happy bunny are you?


you are the "you suck, and that's sad" happy bunny. you're truthful, but can be a bit brutal.


Take this quiz!



Quizilla | Join

Make A Quiz | More Quizzes | Grab Code