It's still a week and a little to go, but it's time to start preparing oneself :-)
Here's a nice blog entry on how to photograph socks.
http://lostpurl.blogspot.com/2006/09/how-to-take-pictures-of-socks.html
It isn't always easy thing to do by yourself and with nothing to be used as a modell to wear the sock... So either one takes a picture of a sock on a flat surface
(Here the date is correct - my own design, clog socks to my hubby)
- or more ambitious ones make a nice setting ;-)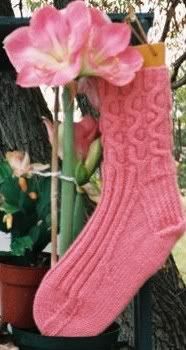 This is from a "sock of the month kit" club... I think it's called "mystery cables" or something like that.
- or you take a picture from "above"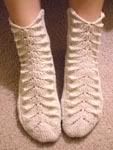 These are Godzilla socks
or the classic "soles together yoga" kind of sock picture.
(Ignore the date - I didn't know how to disable the dating system, and it wasn't set either... the picture is taken in mid-June this year. Six Sox Color Blox)
It is really interesting to start looking at sock pictures with this in mind...
Here's
Flickr group "Socktober Fest"
which is an excellent place to start looking at sock photos.
BTW, here's "
Island of Misfit Patterns
"